A Beautiful Practice For All Your Dental Needs
General dentistry has come a long way, even incorporating lasers to treat a variety of dental issues. Dr. Bagga uses the latest laser technology at his dental practice to safely and efficiently treat things like periodontal disease, gum lifts, and detecting cavities.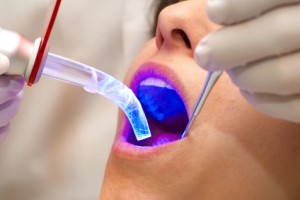 One of the lasers Dr. Bagga uses is the soft tissue laser. This laser is used to treat cold sores and fever blisters, as well as recontouring gums. The laser destroys the bacteria or virus that causes cold sores and fever blisters. It also shields nerve endings to prevent pain and sensitivity. With gum recontouring, the laser can improve the tooth to gum ratio by eliminating gum tissue that creates "gummy" smiles.
The DIAGNOdent laser is used in early detection of cavities before they become visible to the eye. By using DIAGNOdent, Dr. Bagga is able to ensure that your teeth are protected and decay is caught as soon as possible.
Another way lasers can be used in dentistry is in the removal of frenums. A frenum is the fold of tissue connecting the tongue, cheeks, or lips to the jawbone. In some cases, the frenum may be attached too close to the tooth, which can interfere with the structure of the bone and jeopardize the teeth. Teeth may erupt from the gum line very crooked in young children causing discomfort, speech may be impaired, or frenum tissue may need to be removed for dentures to be placed comfortably. In these cases a frenectomy, or removal of frenum tissue, is performed with a laser. This can be done quickly and is a fairly routine procedure.
If you would like to have more information on the use of lasers in dentistry, please contact experienced laser dentist Dr. Bagga. Dr. Bagga serves the area of Randolph, New Jersey.